AC / DC Thrustor Brakes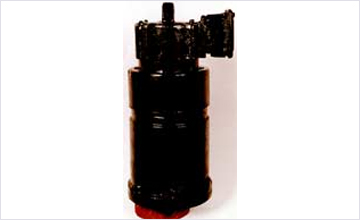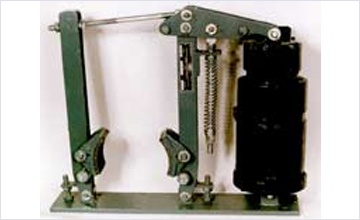 Thrustor & Thrustor Operated Brakes
"ORTON" make Thrustor operated brakes are suitable to work on 415V. 3 Phase A.C. supply for a wide range of drum sizes from 100 mm to 400mm dia with braking torque ranging from 6KgM. to 110 KgM. The mechanism is balanced to give equal shoe clearance throughout the face of drum. The torque is applied by heavy duty compression springs or weight with thrustor.
Thrustor is an electro-hydraulic device designed to exert a constant force to any mechanism to be operated. This thrust can be effectively used in actuation of any part of mechanism like levers, to achieve the desired result. The self contained, compact unit needs only 415 V/3 Ph electric supply to actuate it.
FEATURES :
Self contained unit-needs no external components or accessories
Constant thrust at all positions of working stock
Smooth & Jerk free linear motion.
Compact & maintenance free.
Lower power inputs & low heat generation
Permissible upto 720 operations.
Thrustors are totally enclosed with IP-55 degree of protection.

AC Electromagnetic Brakes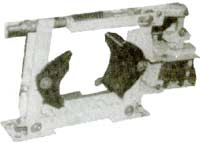 These Brakes are suitable for A.C. supply uptp 440V. & are available for a wide range of Drum Sizes from 100mm to 400mm dia.
These brakes are available with rated torque ranging from 130Kg. for the smallest brake (100mm dia drum), upto 6900 Kg. cms. (400mm drum dia.)
Construction
Base & Brakes are Cast Iron high grade, Shoes are self-aligned, easily removable with fabric lining fixed with aluminum rivets. Magnet is solenoid type with laminated magnetic circuit having pole faces to ensure quiet operation.
Operation
Compression springs provide the necessary working pressure to apply the brake. Release is effected by a single phase electromagnet. A hand release lever is fitted to the lock brake in the "off" position when required.

DC Electromagnetic Brakes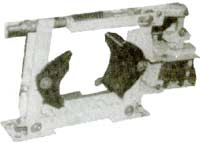 "ORTON" make D.C. Electromagnetic Brakes are suitable for 220 V.D.C. supply, for a wide range of drum sizes from 100mm to 400mm dia. These brakes are used when a load must be stopped rapidly to prevent the load from rotating due to the motor & load inertia at a select predetermined time or a selected point of travel or to prevent over-traveling. These Brakes are robust construction & simple in design. Reliable braking action, efficient transmission of braking are features of these brakes. All parts are easily accessible hence quick maintenance.
These brakes are provide with powerful, short stroke, electromagnets. The magnetic gap is adjusted by holding the end lock nut. Brake coils are provided with epoxy encapsulated coil with class "F" insulation. A suitable rectifier panel is provided along with the brakes for supplying 220VDC
ORTON make Cable Drag Chains are used for conveying flexible cables / hoses etc. to movable units with maximum reliability. The construction of these chains is such that they cannot bend below a fixed minimum radius which is decided based on the cable / hosesize.
ORTON make Cable Drag Chains can be used for conveying cables & hoses. In case of hoses, the medium can be air, liquid or any gaseous matter.
These chains can be used for horizontal applications, vertical applications, circular movements as well as combined horizontal and vertical movements.
Advantages :
Mechanical stress / stain on cable / hoses is reduced to a great extent.
As there is not relative movement between the cable / hose and the cable drag chain, there is no functional wear.
Loop formation of cable / hose and tensional strain on them is avoided.
Increased life of cable / hoses.
Minimum maintenance required.
Due to proper and systematic conveying, working area / shoop floor appears neat.
ORTON cable drag chains can be used for conveying cables and hoses, wherein the medium in the hose can be air, liquid or any gaseous matter.